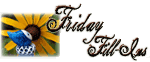 And...here we go!
1.
_A Dirty house..____
is not the end of the world.
2. Sitting here, listening to the sound of rain falling, I
__um, its not raining, and we are about to hit the pool, but if it was raining, I would be a little relieved, going to the pool sounds overwhelming right now___
.
3.
_smothered chicken____
tastes so good!
4. Sometimes, putting others first is
__not the right thing to do, sometimes you have to take care of yourself as well___
.
5.
__my children's laughter___
is breathtaking, really.
6. Well, maybe there is
_a light at the end of the tunnel____
.
7. And as for the weekend, tonight I'm looking forward to
___Hubby coming home__
, tomorrow my plans include
__seeing family and taking the kids to do some crafts___
and Sunday, I want to
__go to the waterpark___
!